Craft yourself a homemade holiday with Rae Dunn inspired Christmas Ornaments and make perfect bows to go along with them!
I swore I wouldn't start writing/thinking/crafting all the Christmas things until Thanksgiving. I told myself I needed to slow down and enjoy the season we're in but let's be honest here; Buddy the Elf is my spirit animal and there's no holding back that amount of Christmas hoop-la. So yea…I'm going there. I'm going full speed towards Christmas-town and I'm taking y'all with me.
Ready?
Let's go.
I'm pretty much like the rest of the population when it comes to Christmas, it's my favorite. The movies, wrapping presents, putting up the tree, and peppermint mocha's from Starbucks are my weak spots. Chris could leave me alone all weekend to put up Christmas decor and I'd be totally relaxed and happy.
But can there be an automatic tree fluffer or something? Or can I pay someone to put up and fluff out the tree and I can just decorate it? That's a service I could totally get behind.
Last year I kind of halfway did a homemade tree with all my Harry Potter ornaments, but after working on these I never finished it. I'm still figuring out how to balance this whole motherhood thing with getting stuff done, it's a daily struggle.
But this year my child is older and just a tad less needy so I'm hoping to do an all out homemade Christmas! And what better way to start than with some Rae Dunn inspired Christmas Ornaments?
How to make your own Rae Dunn inspired Christmas ornaments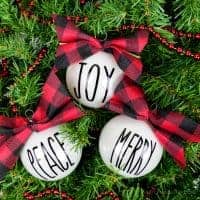 Rae Dunn Ornaments
Materials
White Glass Ornaments (from Hobby Lobby)
Buffalo Chex Ribbon (from Hobby Lobby)
Instructions
Write and then cut out the phrases with your machine and weed them.

Peel the backing off your transfer tape and put it on top of your newly weeded phrases.

Rub the tape over the letters and then peel up the transfer tape. (if the letters aren't coming up, put the tape back down and continue rubbing the tape until all the letters come up)

Cut the transfer tape as close to the vinyl as possible. I also like to cut small slits around the letters (be careful, you don't want to accidentally cut the vinyl!). This will help the vinyl "give" a little as you're placing the letters.

Carefully put the phrases on your Christmas bulbs. I like to put the middle down first and press down in a straight line. Then I press down the top half of the phrase before moving on to the bottom half.
Recommended Products
As an Amazon Associate and member of other affiliate programs, I earn from qualifying purchases.
Once that's done, it's time to make the bows!
I made mine using a really simple tutorial a friend shared with me, then I tweaked it a bit and decided to make a video to share with all of you!
If you're on a mission to get more handmade this year, I've got a few projects you need in your home!
Let's just hope I can keep up this handmade business and craft myself a really awesome Christmas this year!
More Holiday Fun!