If you struggle with applying transfer tape to your projects then you need these easy tips that give you professional results every time!

Have you ever tried to do a vinyl project without using transfer tape?
I don't recommend it.
It makes the simple process of putting your vinyl onto your finished project material SUPER hard and ridiculously annoying.
And I'm all about cutting out frustrations wherever and whenever I can.

To be honest, when I first got my Silhouette I would pick the vinyl off the backing with my nails..
Which was so stupid because my vinyl always looked picked at and stretched.
And if I had wanted to do a design that had more than one piece or color…forget about it. I could never line it up right after removing the vinyl from the backing.
That's where transfer tape would've come in handy. Because vinyl is very thin it's hard to pick up without it. It also stretches very easily…which is why picking at it with my fingers was a dumb move.

What is transfer tape?
Transfer Tape is not actually tape. It is a sticky backed material that helps you transfer your vinyl from the backing to your finished project.
What transfer tape should you use?
There are many different types of transfer tape that you can use and it all really depends on your personal preference. There are typically two kinds you can use : transparent or opaque. I tend to like the transparent best because it helps me see what I'm doing and I'm able to line things up easier.
Within those two types of vinyl you can also find gridlined and plain (aka, no lines) vinyl. I tend to use gridlined because without it I can't seem to get my designs straight on the finished project material. You either love the lines or you don't. It's really personal preference!

Where can you buy transfer tape?
I have two favorite places I always buy from:
Amazon and Expressions Vinyl.
If I'm in a bind and need it quickly I order from Amazon because I have Prime and get free two-day shipping.
But Expressions Vinyl is always having sales and you can typically get transfer tape at a really good price from them.
And all through January if you spend $25 at Expressions Vinyl you can get their FREE Beginner's Guide to Adhesive and Heat Transfer Vinyl!
You can also go to Michaels, Joann's and Hobby Lobby if you need transfer tape that same day. I typically don't like the Silhouette and Cricut brands so I just stock up on transfer tape when Expressions Vinyl is having a sale.
These tips on how to use transfer tape are:
easy,
simple to use, and
great for beginners who are just starting out with their machines!
So, as I said, it all depends on what you like. There's no wrong answer here, it all just depends on what works for you!

How to use Transfer Tape for your Silhouette and Cricut Projects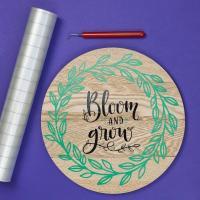 How to Use Transfer Tape
Not sure how to use transfer tape? I'll teach you how to get professional results for your vinyl project with these simple tips and tricks.
Materials
Vinyl
Transfer Tape - Gridlined
Instructions
Cut out your design and then use your weeding tool to remove all the little pieces that you don't need.
Place your transfer tape on top of your vinyl and use the application tool to rub the transfer tape onto your vinyl.
Start peeling back the transfer tape (SLOWLY) and make sure your design comes up with it. If it doesn't, put the transfer tape back on top of it and rub it again using your application tool. Continue to do this until your entire design comes up with the transfer tape.
Lay your transfer tape on top of whatever you're putting your vinyl on.
Use your application tool to rub the transfer tape and vinyl onto the final project.
Pull up your transfer tape slowly, making sure the vinyl is sticking to your final project. If it's not, lay the transfer tape back down and rub your application tool on top of it again. Continue to do this until your vinyl is stuck to the project.
Notes
Keep your vinyl on your cutting mat when you put the transfer tape on top.
Cut a piece of transfer tape that is slightly bigger than your vinyl design. You should line it up with the edges of your cutting mat (which will also help you keep your design straight when putting it on your final project).
To prevent bubbles in your vinyl, place the transfer tape on top of your vinyl design while it's still on the cutting mat. As you are laying the transfer tape down (do this very slowly), use your application tool and push out the bubbles and creases as you lay it down. Do this in sections until you've covered the entire design with transfer tape.
You CAN reuse transfer tape. This works better on surfaces that are not wood because the transfer tape loses its tackiness once you use the application tool to rub it onto the wood. Always check the tackiness before you reuse though. If it's not strong, grab a new piece.
Recommended Products
As an Amazon Associate and member of other affiliate programs, I earn from qualifying purchases.
This can get expensive if you keep buying rolls of transfer tape and realizing you don't like whatever you bought. My suggestion is to buy a sheet of it first (if that's available) and then buy a roll from there. You don't want a ton of transfer tape sitting in your craft room that you'll never use!
Need some ideas on crafts to try transfer tape out on? These are perfect for that!
This is part two (of a four part) how-to series here on the blog! Next week we're going to talk about getting clean lines when you paint with stencil vinyl!
Last week's post, how to cut and weed small designs successfully can be seen here!
more vinyl crafts!